This is a comprehensive list of all the Spelling mistakes and uses of incorrect words, in alphabetical order, and their correct spellings.
2: "to" or "too".
2day: today
2gether: together
4: for
A bout/abut/abot: about
Abra/Allah: Avada.
Accuse: excuse
Actshelly: a pun on "actually" and "hell".
Advisd: advised
Afraind: afraid
AIDs: AIDS
Akshelly: actually
Al: all
Albastard: alabaster
Albert: Albus
All: when said before an adjective, this turns the adjective into an adverb (e.g. "all sensitive").
Alzheimers: Alzheimer's
Andorson: Anderson
Angirly/angerly/anvilly/arngrily: angrily
Anh: and
Anserred: answered
Any1: anyone
Anyfing: anything
Are: usually used correctly, once used to mean "our".
Askd: asked
Aspect: expect
Aspleep: asleep
Atak: attack
B4: before
Bagged: begged
Bak: back
Ballots/ballets: bullets
Balls: ball
Bar: bra
Bark/Barke: Dark
Becose/becos: because
Bein: being
Bich/bitca: bitch
Bing: being
Bisezual: bisexual
Blak/bvlak: black
Blared: glared
Blod: blood
Bobs: boobs
Bodil: Bombodil
Boiz: boys
Boldy: B'Loody
Bombodil: Riddle
Bond: and
Borked: barked
Borken: broken
Boy's thingy: penis
Brake: break
Bread: beard
Broms: brooms
Broomstuck: broomstick
Bufy: Buffy
Burrow: borrow
Bustard/bastrad: bastard
Butt: has been used correctly, but it has also been used to mean "but".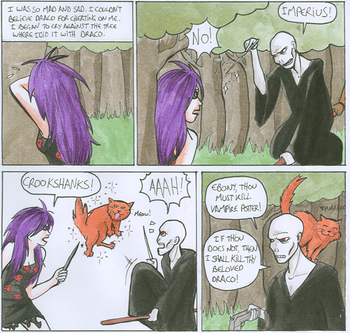 C: see
Cant: can't
Caramel: camera
Carde: card
Changd: changed
Chapta: chapter
Cheesing: cheering
Chraloote/Chralotte: Charlotte
Christina: Christian
Cideo: video
Cing: seeing
Clamed: claimed
Clearage: cleavage
Cloke: cloak
Cloves/clozez: clothes
Clozd: closed
Coarse: course
Cockle: cackle
Cofin: coffin
Coke: when used incorrectly, "cloak".
Comfortly: comfortingly
Commnted: commented
Condemns: condoms
Constipated: confiscated
Contort/comfrot: comfort
Cordes: chords
Cornelia: Cornelius
Crab: Crabbe
Crak: crack
Crakter: character
Crookshanks/crosio: crucio
Cryptal/crucible: crystal
Crrying/cryin: crying
Cum: come
Cuz: 'cause
Da: "the" or "that"
Das/de/di: the
Dat: that
Dats/datz: that's
Death Dealers: Death Eaters
Deelers: Dealers
Dem: them
Den: then
Depite: despite
Deprezzed/derperessed: depressed
Deprezzin: depressing
Der: there
Deth: death
Deviation: divination
Dey: they
Die: jokey way of saying "tie"
Dint: didn't
Dirnk: drink
Dis/diz: this
Disfusted: disgusted
Dnot: don't
Doez: does
Dogfather: godfather
Dondderhed/dunderhed: dunderhead
Doris: Dolores
Dos/dose: those
Dracola: Dracula
Dracos: Draco's
Drago/Drako/Drake/Darko/Drico: Draco
Drak/Dork: dark
Dramiticlly: dramatically
Dreem: dream
Drity: dirty
Due: do
Dumblydore/Dumbledoree/Dumbeldore/Dumbelldore/Dumbledork/Dumbledum/Dumbldore/Dumblydor/Dubleodre/Dumblehor: Dumbledore
Dyed: died
Eachother/eachodder: each other
Eachotherz: each other's
Eight: ate
Enoby/Enobby/Ebondy/Enony/Eboby/Egogy: Ebony
Enouff: enough
Enrgtically/ENREgeticALLIY: energetically
Erective: secretive
Eructation: erection
Eva: ever
Every1: everyone
Everyfing: everything
Evill: evil
Exhibited: excited
Excretion: discretion
Excus: excuse
Exorcise: pun for "exercise".
Expelled: when not used correctly, it can mean "explained".
Expuld: expelled
Eyesharrow/eyesharow: eyeshadow
Fang: thank
Fangs: thanks
Fashin: fashion
Feel: once used incorrectly to mean "fell".
Felling: feeling
Fellowed: followed
Fflaming: flaming
Filth: Filch
Fing: thing
Fingie: thingie
Finking: thinking
Fik/fink: think
Fireworx: fireworks
Fishnetz: fishnets
Fiv: five
Flamrs: flamers
Flattened: flattered
Flmes: flames
Flu: flew
Fo: of
Folt: fault
Fond: found
Forhead: forehead
Fornt: front
Fought: thought
Fould: could
Frendz: friends
Froned: frowned
Frum: from
Fudged: Fudge
Fuk/fok: fuck
Fuker: fucker
Fukin/fukcing/fokeng/fokking: fucking
Gadgetted: gagged
Gapsed: gasped
Garbed/grabed: grabbed
Girl's: girls'
Goffs/gothz: goths
Gona: gonna
Gong: going
Gottik/goffic/gpffik/goffik: gothic
Goyke: Goyle
Grate: great
Gren: green
Griffindoor/Gryiffindoor: Gryffindor
Growld: growled
Gurl: girl
Gurlfriend: girlfriend
Gurlz: girls
Gut: got
Guyz: guys
H8: hate
Had went: had gone
Haf: half
Hal: hall
Handz: hands
Hapnz: happens
Happly/HAPPili: happily
Hair of Magical Magic Creatures: Care of Magical Creatures
Hare: hair
Hargrid/Hargirid/Hargid/Hairgrid/HAHRID/Hargird: Hagrid
Has him bondage: has him tied up for bondage-related reasons.
Hav/havfe: have
Haz: has
Hearth: heart
Heelz: heels
Hed: head
Hel: hell
Hem: him
Herd: heard
Hermoine: Hermione
Hes/his: he's
Ho: how
Hogsmede: Hogsmeade
Homophone: homophobe
Honkerchief: handkerchief
Hop: hope
Hopped: hoped
Horrorfied: horrified
Hotset: hottest
Hr: "here" or "her"
Hu: who
Ill: I'll
Im: I'm
In2: into
Incapacitation: incantation
Inlosent: insolent
Intimated: intimidated
Invincibility: invisibility
Ishoo: Issue
Issuz: issues
Its: it's, when used incorrectly.
Itz: it's
Iz: is
Iznt: isn't
Jamped: jumped
Jenny: Ginny
Jus/jut: just
Kall: call
Kamera: camera
Kan: can
Kancer: cancer
Kawai: kawaii
Kewl: cool
Klasses: classes
Knok: knock
Korset: corset
Kod: could
Koz: 'cause
Kroniklz: chronicles
Laffed: laughed
Laves: loves
Ledder/leader: leather
Legz: legs
Lethrgicly: lethargically
Lets: let's
Lik/likee: like
Linkin/Likin: Lincoln
Lizzin: listen
Loafing: laughing
Loiyalty: loyalty
Loking: looking
Longdon: London
Longley: longingly
Lookd/locked: looked
Loopin/Lumpkin: Lupin
Lotz: lots
Lucian/Luscious: Lucius
Ludacris: ludicrous
Luk: luck
Lung: long
Luv: love
Lyrks: lyrics
Ma: my
Mango's/Manga's: Mungo's
Maru/Mair/Mairy/Mart/Mry: Mary
Mary: usually just means "Mary", but once it meant "marry".
Mastabated: masturbated
Masticating: masturbating
McGoggle/McGoonagle/McGongel/McGoogle: McGonagall
Mebe: maybe
Membez: members
Men: sometimes used to mean "mean".
Menz: means
Millon: million
Mistak: mistake
Mistressly: mysteriously
Mogic: magic
Motherfukers: motherfuckers
Movd: moved
Mputh: mouth
Muxh: much
Mr. Norris: Mrs. Norris
Mr. Way: Miss Way
Mst: must
Mutates: minutes
Muzik: music
Mystery: ministry
N: "and", "in", or "an".
Naie: nail
Nam: name
Navel: Neville
Necphilak: necrophiliac
Neway: anyway
Nex: next
Nd: and
Nife: knife
Nit: lit
NiteMARE: nightmare
No: usually means "no", but sometimes means "know".
Noes: knows
Noil: nail
Non: none
Noo: no
Noris: Norris
Nuffin: nothing
Nut: not
Od: of
Odder: other
Of: usually just "of", but sometimes it can mean "off".
Off: usually means "off" but it can mean "of".
OMFFG: OMFG
Orgasim/orgism/orgy: orgasm
Ot: "to" or "hot"
Others: usually just means "others", but also means "other's".
Oviously: obviously
Pail: pale
Panamas: pyjamas
Pant: paint
Passively: passionately
Pastors: posters
Pedoz: pedos
Pedofiles: pedophiles
Pensive: Penseive
Pentagram: when not referring to a real pentagram, it means "cross", like in the phrase "a cross between".
Perdition: prediction
Photons: photos
Pik: pic
Pix: pics
Pls/plz: please
Poiny: pointy
Pokets: pockets
Polled: pulled
Pornto: pronto
Postphoned: postponed
Pot: put
Potting: putting
Ppl: people
Prepz: preps
Prey: pray
Princepill: principal
Proffesor/profesor: professor
Promiz: promise
Punkgoff: punk-goth
Punx: punks
R: are
Raced: raised
Rap: rape
Redisnet: resident
Relly: really
Rememba: remember
Rent: went
Replayed: replied
Reponded: responded
Retry: retire
Reviewrs: reviewers
Reviewz: reviews
Ridiculus: ridiculous
Rists: wrists
Rnt: aren't
Rok: rock
Rong: wrong
Roomz: rooms
Rox: rocks
Ruining: running
Rulez: rules
Rumbridge: Umbridge
Sacredly: secretly
Sadiztz: sadists
Sandly: sadly
Sarkastikally: sarcastically
Sawed: saw
Scram: scream
Scray: scary
Scremed/screemed: screamed
Screming: screaming
Secretes: secrets
Sed: said
Sedouce: seduce
Seductvely: seductively
Sekrtivly/skrtvli: secretively
Sensetive: sensitive
Serious/Series/Serifs: Sirius
Serus: serious
Serverus: Severus
Sessionz: sessions
Sexah/sexxy: sexy
Sexbom: sex bomb
Sexitive: portmanteau of "sexy" and "sensitive".
Sex-pack: a six-pack that's seen as sexy.
Shes: she's
Shit: "sit" or "shirt".
Shme: me
Shockd: shocked
Shok: shook
Shoot: shout
Shooted/shotted/shited: shouted
Shrak: shark
Shriedked: shrieked
Shud: should
Silt: slit
Sinister/Sinatra: Sinistra
Sings: either "sings" or, when used incorrectly, "signs".
Sinz: since
Skepped: skipped
Skrew: screw
Skull: usually just means "skull", once used as a pun to mean "school".
Skullz: skulls
Slitherin/Slytherine: Slytherin
Smelled: smiled
Snaketail: Wormtail
Snap/Snake/Snoop/Snipe: Snape
Snaped: snapped
Somethnig/sumthing/somefing: something
Songz: songs
Spel: spell
Speld: spelled
Spex: speaks
Spock: penis
Sportive: supportive
Spshcial: special
Spuin: spun
Stallone: stallion
Stanism: Satanism
Stated/stared/storted: started
Statistically: sadistically
Steak: stake
Streekz: streaks
Stup: stop
Suckings: stockings
Sudenly/suddenlyn: suddenly
Suk: suck
Sum/som: some
Sun: can just mean "sun", or it can mean "son".
Swering: swearing
TaEbory: Ebony
Tara: the author, but when used incorrectly, it can mean "Raven" or "Ebony".
Tearz: tears
Telekinesis: telepathy
Telepathetic: telepathic
Thee/teh: the
Their: they're (when used incorrectly).
Ther: there
These time: this time, or these times
Thoufht: thought
Thru: through
Tim: time
Tite: tight
Tok: took
Toner/tuner/torner: turner
Toot: out
Topik: topic
Totlly: totally
Tords: towards
Transfomation: Transfiguration
Trevolry: Trelawney
Trid: tried
Triumelephantly: triumphantly
Trobbing: throbbing
Tryont/tring: trying
Tshit: T-shirt
Txt: text
U: you
Ubtil: until
Uncomfortabli: uncomfortably
Unda: under
Understatedly: understandingly
Upset to: upset when I went to.
Ur: "you're" or "your"
Urple: purple
Urslf/urself/urselxxz: yourself
Utfit: outfit
Uv: of
Vampir/Vrompire/Vampure: vampire
Vevlet: velvet
Vido: video
Viower: viewer
Virility: virginity
Vlodemort/Volfemort/Volsemort/Voldemprt/Volcemort/Volxemort/Volzemort/Voldremot/Voldemint: Voldemort
Volremortserum/Voldemortserum: Veritaserum
Vued: viewed
Wallz: walls
Wana: wanna
Wanabe: wannabe
Wart: wore
Waste: waist
Weeped: wept
Wer: "wear" or "we're"
Were: usually just means "were", but Draco once uses it to mean "are".
Were the words: once used incorrectly to mean "was the word" ("in bloody gothic writing were the words Vampire").
Werid: weird
Werring/wering: wearing
Werz: were
Wesley's Whizard Wises: Weasley's Wizard Wheezes
Wetnes: wetness
Whatz: what's
Where: when used incorrectly, it means "were".
Where'd: either "where'd" or, when used incorrectly, "where's".
Whit: white
Whjat: what
Whose: can have the usual meaning, can also mean "who's".
Wht: what
Wid/wif: with
Wil: will
Wipped: wiped
Womb/wound: wand
Wont: won't
Wonted: wanted
Wqually: equally
Wud: would
Wunted: wanted
Wurped: warped
Wutsched: watched
Wuz/wus/woz: was
Xcuse: excuse
Xtremely: extremely
Y: why
Yah: yeah
Yielded: yelled
Your: you're
Yrs: years
Community content is available under
CC-BY-SA
unless otherwise noted.