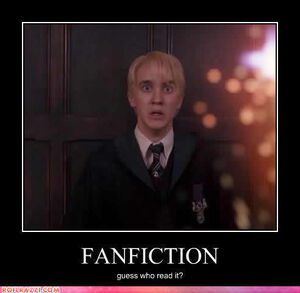 Warning
This wikia contains many subjects and words that people will find offensive. It should go without saying that we, the editors, do not support or encourage such things within. In truth, this site is a mockery of such offensive words and topics, and anybody supporting such will be removed.
The My Immortal Wiki is the collaborative website dedicated to the greatest, teen angst, canon shredder and character annihilator fanfiction ever written, Tara Gilesbie's magnum opus, My Immortal. Originally written and posted to Fanfiction.net in 2006-2007, My Immortal is the epic tale of Ebony Dark'ness Dementia Raven Way, a 17-year old vampire attending "Hogwarts School" in England. While it is ostensibly a Harry Potter fanfiction, My Immortal bears strikingly little resemblance to the Harry Potter universe created by J.K. Rowling.
Meet the main characters (Click a picture to go to their page)
Quick Links
Helping out:
Not sure where to start?
Adding content